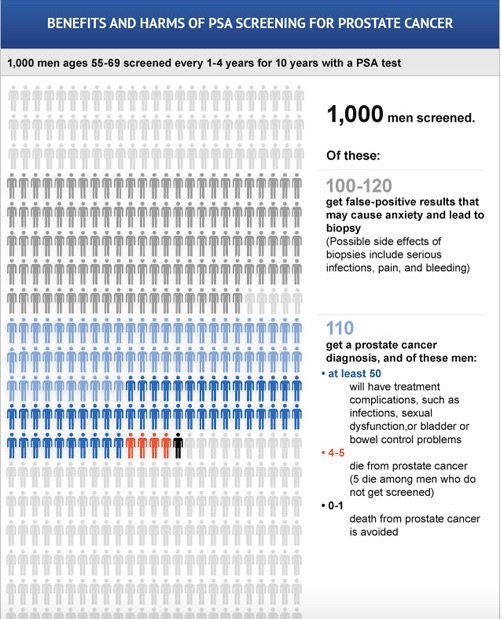 New Prostate Cancer Screening Guildelines – clarity at last!
Prostate Cancer – to screen or not to screen?
Prostate cancer is a serious disease and kills more than 3000 men a year in Australia.   It is understandable that men are anxious about this.

It's also understandable that you would want to screen for prostate cancer.

In December 2014 new (draft) guidelines were released regarding screening for prostate cancer.

The new guideline states:
Digital (rectal) examination is no longer indicated.



PSA testing (blood test) should not routinely be offered by GP's.
If a man requests a PSA test it should be performed between the ages of 50 – 69 and not more than two yearly. Men with a family history of prostate cancer can start having PSA testing from the age of 45.
If the PSA is above 3.0, a biopsy of the prostate should be offered.



These new guidelines were developed in consultation with GPs, public health experts, urologists, pathologists, radiation oncologists, allied health professionals and consumer representatives, and the guideline is supported by Prostate Cancer Foundation of Australia and Cancer Council Australia.
It is advising GPs to not routinely offer prostate screen to men – so why would this be?

You would think that having a test to see if you have prostate cancer would be simple – have a blood test, have a digital exam and the answer is clear. Either I have prostate cancer or I haven't.
What if there is evidence that such a test might do you harm? You would have to think about it more carefully, right?
Unfortunately prostate screening is not as easy as it seems for a few reasons:
PSA testing is not a very accurate test for prostate cancers.

If the test is positive, invasive investigations such as prostate biopsy may be required to determine if it is prostate cancer.

Some of the prostate cancers are low-grade cancers that are asymptomatic and does not need treatment.

Four randomized controlled trials have found PSA testing appears to have no discernible effect on the overall risk of dying.
So what does the numbers say?
For every 1000 men tested, 87 men who do not have prostate cancer will have a false positive PSA test that will lead to a biopsy.
For every 1000 men tested, 28 men will have prostate cancer diagnosed as a result of the PSA test, many of whom would have remained asymptomatic for life (i.e. are overdiagnosed).
For every 1000 men tested, 25 men will choose to undergo treatment (surgery or radiation) because of uncertainty about which cancers need to be treated, many of whom would do well without treatment (i.e. are overtreated)
7–10 of these 25 men will develop persistent impotence and/or urinary incontinence, and some will develop persistent bowel problems, due to treatment.
For every 1000 men tested, 2 men will avoid death from prostate cancer before 85 years of age because of PSA testing.
Click here to open a large image of this pictorial representation of the statistic related to PSA testing.

Digital examination has been found to increase the number of biopsies performed but did not lead to more prostate cancers being diagnosed so this exam is not longer recommended.
The guideline is not discarding prostate screening altogether. It is suggesting that you should think about the benefits and risks and look at the numbers carefully when you are considering the screening process. The risk of prostate cancer is higher in people with a significant family history so screening may be more beneficial.
Remember, there are many other screening tests and preventative care measures that have good evidence to reduce disease and improve your health.
If you have any questions about how this information would relate to you or would like to discuss about other screening tests, make an appointment on 3257 0841.

Article written by Doctors @ Teneriffe